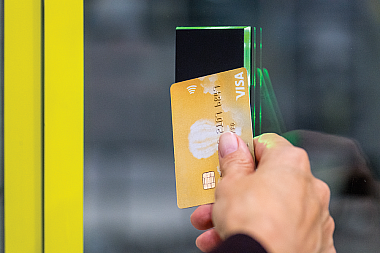 Z-Wave.Me NFC Reader is a very stylish and secure access control panel. It can not only arm/disarm your security system but also directly controls Z-Wave secure door locks. Protect your house or office. Security cards and PayPass/PayWave are supported.
Hardware specification

Size

11 x 50 x 90 mm

Touch sensor

door bell function

RFID Range

up to 4 cm

Supported cards

Mifare: SimonsVoss, Easee, KEBA, Heidelberg, et. al
ISO/IEC 14443, ISIC, PayPass and PayWave

Indicator

RGB LEDs, Buzzer

Power

12 V / 5 V / Battery
Z-Wave.Me NFC Reader perfectly fits access management systems for short-term rentals and co-workings. A tenant can open a door with the same card he paid with.
For a home usage one can register any NFC card your relatives have. It may be a bank card, an ISIC card, even a transport card. Anything can become a key.
To get pricing and availability information, please contact us at info@z-wave.me.