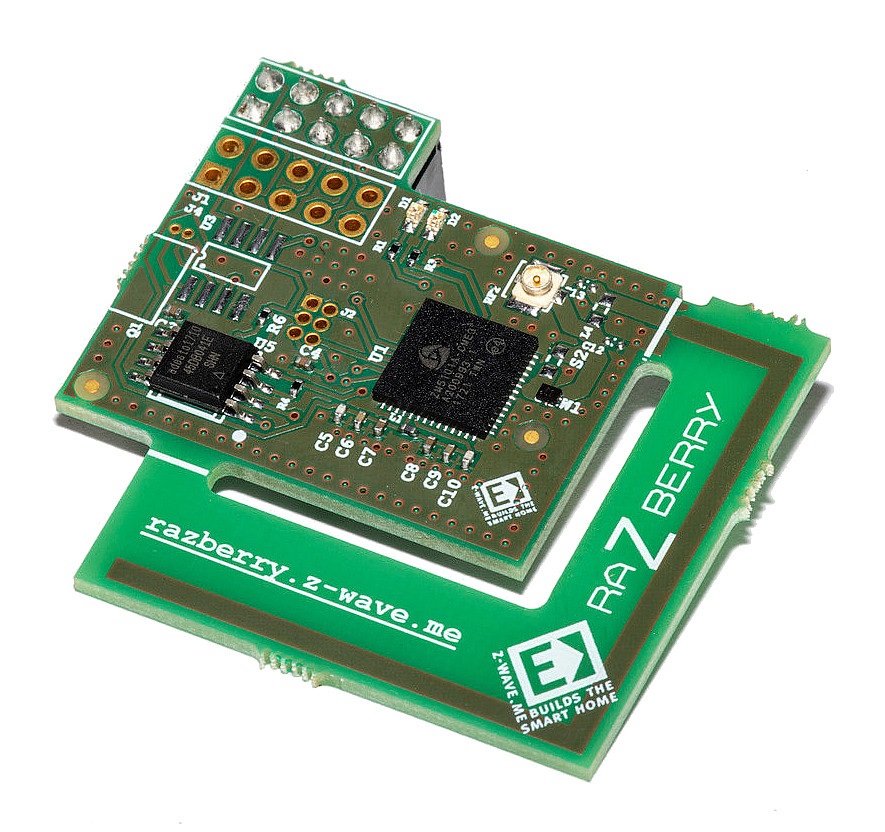 The RaZberry is a tiny daughter card that sits on top of the Raspberry PI GPIO connector not blocking the USB boards. It is powered by the Raspberry PI board with 3.3 V and communicates using UART TTL signals (RX/TX). RaZberry is compatible with all models of Raspberry Pi.
The daughter card hosts a Sigma Designs ZM5101 Z-Wave transceiver module (a so called 5th generation Z-Wave module), an external 32 K SPI flash for network data and a PCBA antenna. Additionally two LEDs are used to indicate certain status of the Z-Wave controller chip. Beside the PCBA antenna there is an option to solder a U.FL connector for external SMA antenna.
The power consumption of the board is typically 18 mA at 3.3 V but can peak up to 40 mA when the chip is transmitting.
RaZberry supports Z-Wave Security S2 and Smart Start technologies.
Compared to the standard firmware design used by almost all Z-Wave transceiver hardware, the RaZberry Shield firmware offers several extensions and enhancements:
Backup and recovery function including network topology
Optimised transmitting queue handling to speed up transmitting process
Firmware update from the OS level in the field
Trusted Platform module applying strong encryption
Extended Wakeup Notification to extend battery life time of battery-operated devices in the network
Advanced statistics about network actual usage
Allows switching frequencies from software
RaZberry comes with Z-Way software, but it is also compatible with all third party software that uses Z-Wave Serial API. There are firmwares for static controller (for Z-Way and most of third party software) or bridge (for Z/IP).
RaZberry comes in three different versions depending on the transmitting frequency used:
ZMEERAZ2: Version for all frequencies around 868 MHz (EU, Russia, India — default is EU).
ZMEARAZ2: Version for all frequencies around 921 MHz (Australia/Brasil, Japan, Korea — default is Australia/Brasil)
ZMEURAZ2: Version for all frequencies around 908/915 MHz (USA, Israel — default is USA)
Please check what frequency range you need. You may need to change the frequency within the frequency group using a shell script tool or Z-Way. For more information about technical data an the different operating frequencies please refer to the RaZberry manual.
Which RaZberry version do I have?